As a leader in custom design and engineered products, ALADCO® offers a family of patented pneumatic Check Valves, Grip-Clamps, and Roller-Cam Clamps designed specifically to assist automation engineers.
ALADCO. Industrial Engineering Solutions.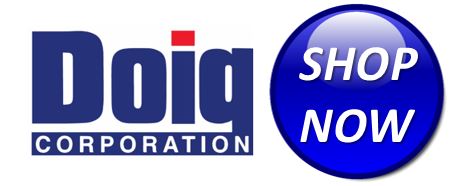 Doig Corporation is an Authorized ALADCO® Distributor located in Wisconsin.
---
ALADCO® Pneumatic Check Valves
The Nu-Check© Valve, designed specifically for pneumatic applications, ispatented by ALADCO®. It's the only check valve on the market with both manual and pilot release capabilities.
The Clean-Check® Valve, designed specifically for Pneumatics is a patented ALADCO product. It is the only check valve on the market with both manual and pilot release capabilities. The bubble-tight seal keeps devices in position. If pressure loss should occur, the valve prevents drifting. To release the seal, depress the manual override button or operate the pilot.
The Clean-Check® Valve is fully sealed for use in clean/sanitary environments without its function being affected. The valve is able to tolerate: dust, dirt, oil, grease, detergent, cleaning solutions and cutting
fluids.The Clean-Check® Valve has not been designed for use on vacuum, air over oil or high pressure applications.
The Dual-Check® is a valve assembly with two parallel check valves that can be manually overridden with a single button or with an internally plumbed air pilot. It is designed for pneumatic applications.
---
ALADCO Pneumatic Grippers
ALADCO offers a line of Pneumatic Grip-Clamps® ideal for your particular automotive, food and other industrial manufacturing requirements. Special heat treated alloy steel components offer superior wear and toughness. Adjustable cushions provide smooth, long operation. Standard arms allow for a wide range of tooling clearances. We offer toggle lock and power lock clamps allowing greater flexibility to fit all your manufacturing needs.
Toggle vs Power
The toggle clamp is used for added safety and is designed so that the linkage goes over-center and remains in a positive locked position even in the absence of air pressure. The toggle clamp is unlocked only by the cylinder powering the linkage back through the over-center locked position.
The power lock is designed so that the linkage does not go over-center providing for variable clamping thicknesses.
We recommend the use of ALADCO check valves for toggle and power applications to maintain the air pressure and clamping force.
Features
The largest gripper available – 10,900 inch-lbs. clamping force
Grip-Clamp mechanically toggle locks in the over-center clamped position
Standard 90o arm openings
Custom arms and special openings available
Enclosed 1.0″ cylinder rod prevents rod failure
Powered by a 4.00″ bore cylinder
All heat treated, precision ground alloy steel components for reliability
Grease fittings for relubrication
NFPA mounting to fit a quality cylinder
Hydraulic cylinder option available
Patented and made in the USA
See the complete lineup of Aladco products.