E•DRIVE Actuators initially developed a wide variety of heavy duty ball screw linear actuators, targeting the machine tool retro-fit market.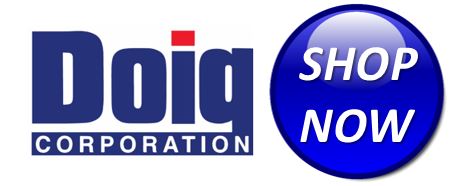 Doig Corporation is an Authorized EDrive Actuator Distributor
EDrive designs are conservative, rugged construction, long life, and high precision. Founded in 1980, E•DRIVE actuators are designed, manufactured, tested, and serviced in West Hartford, CT.
---
316L Series Stainless Steel Exterior:
Withstands frequent caustic wash down
Rugged Steel Construction:
Tolerates rough operating conditions
High Dynamic Capacity Components:
Result in reliability and longevity
High Thrust Even at High Speed:
Means no compromises in the production cycle
Lead Accuracy:
0.002 in/ft Standard, 0.0005 in/ft Optional
Integral Load Cell Option:
Continually monitor axial force
Accepts Most Motors or Gearboxes Without an Adapter Plate:
Reducing cost and allowing the end user to select their preferred motor source
IP66 Rated:
When using positive pressure purge provision
Variety of Standard Mounting Options:
Makes it easy to mount and align actuator
Force From 200 to 300 lbs
Velocity to 33 in/sec
Sealed Chamber Design with Purge Provisions

Force From 400 to 2,000 lbs
Strokes to 30 inches maximum
Velocity to 40 in/sec
Sealed Chamber Design with Purge Provisions

Force From 400 to 2,000 lbs
Strokes to 48 inches maximum
Velocity to 40 in/sec
Sealed Chamber Design with Purge Provisions

2,000-25,000 lbs Force
Heavy Wall Steel Construction
Longest Life
Simultaneous High Thrust with High Speed

Integrated force measurement
2,000-25,000 lbs Force
Accurate within ½ percent of rated force
Conforms to latest standard ASTM E4 for Testing Machines
Internal load cell � wire connections are "out of the way"
Load cell rated for 100 million cycles

30,000-66,000 lbs Force
Heavy Wall Steel Construction
Highest (B10) Life Rating
Piston with Rugged Anti Rotation Feature

Velocity to 65 in/sec
Rated Thrust 2,000 lbs Force
Heavy Wall Steel Construction
Highest (B10) Life Rating
Piston with Rugged Anti-Rotation

Machine Tool Grade
High Precision with Force to 15,000 lbs
Rugged Steel Construction
Designed for High System Stiffness