Tolomatic has been manufacturing leading factory automation components since 1954. Doig Corporation has been a valued Tol-o-matic Distributor for over 50 years!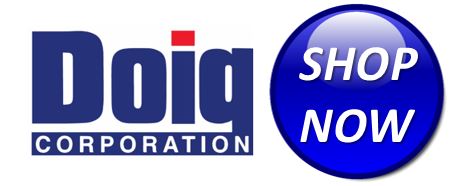 Tolomatic electrical linear motion systems, pneumatic actuators, gearboxes and caliper brakes provide "Excellence In Motion®".
Tolomatic Electric Linear Motion Control Products
Tolomatic has all you need for electric linear motion control with an extensive offering of rodless and rod-style electric linear actuators. Complete your actuator system with a Tolomatic servo or stepper controller for easy-to-use motion control.
Want to learn more about electric linear actuators? Download Tolomatic's e-Book.
---
Tolomatic Pneumatic Linear Actuators
Tolomatic Pneumatic Linear Actuators include space-saving rodless designs in a variety of styles.
Download Tolomatic's white paper on how to avoid sizing mistakes.
---
New Product: RSX Extreme Force Electric Linear Actuator
The RSX family of extreme force electric linear actuators are more efficient and flexible compared to hydraulic cylinders. Designed and tested for 100% duty cycle, these hydraulic class actuators will be capable of up to 50,000 lbf (222.5 kN). The RSX is designed to withstand extreme conditions and cold-weather operation.
RSX extreme force electric linear actuators offer these features:
Roller screw driven for long, consistent life
IP67 rated for water, dust and corrosion resistance
Available in food-grade white epoxy coating with stainless steel components
Compatible with servo motors and gearboxes up to 215mm frame sizes
Find out more about the RSX Extreme Force Actuator
Considering replacing hydraulic cylinders with electric actuators? Read Tolomatic's White Paper.
---
New Product: ACSI Integrated Servo Motor/Drive/Controller
Tolomatic's new ACSI servo motor/drive/controller creates a space-saving, all-in-one actuator control solution for single-axis applications. When mounted to a Tolomatic electric actuator if offers a complete motion control system with a simple digital I/O, analog input or robust industrial Ethernet.
The ACSI offers cost-effective motion control and is ideal for replacing pneumatic cylinders and automating other axes of motion. With built-in configurations for compatible Tolomatic electric actuators, the ACSI servo motor controller creates fast, easy linear motion via a USB or Ethernet port. Rotary axes and third-party actuator control are also supported.
Two sizes (NEMA 23 & 34)
Control options include EtherNet/IP, PROFINET, Modbus TCP and Basic (Digital or Analog I/O)
Standard IP65 rating
Find out more about the ACSI Servo Motor/Drive/Controller.
---
Featured Product: IMA Linear Servo Actuator
Replace hydraulic or pneumatic cylinders with Long service life and a compact servo design
Tolomatic IMA Servo Linear Actuators are available with ball screws for economy or roller screws for longest life and higher forces. Available in food-grade epoxy coating or all stainless steel for IP69K food processing applications.
Forces to 30.6 kN (6875 lbf)
Seamless integration with Rockwell Automation Kinetix platform with approved custom motor files
Patented re-lubrication design eliminates actuator disassembly for extended service life
Find out more about the IMA Linear Servo Actuator
---
Featured Product: ERD-SS2 Stainless-Steel Electric Actuators with Integrated Motor Design
IP69K rated and washdown ready
Tolomatic stainless-steel ERD-SS2 electric actuators are made with 304 stainless steel for clean-in-place, washdown-ready performance.
Ball and acme screw choices
Force/Thrust capacities up to 2.2 kN (500 lbf)
Stroke lengths up to 610 mm (24 inches)
Simplifies and lowers cost of machine design by eliminating protective guards around standard actuators
Find out more about the ERD-SS2 Stainless-Steel Electric Actuators
---
Featured Product: ERD Hygienic (3A/USDA approved) Electric Actuators
Approved hygienic option for over food operation
Designed specifically for food and beverage processing, Tolomatic's ERD hygienic 3A/USDA approved actuators offer higher forces for pressing, pumping, cutting or slicing. Use the Your Motor Here® database to select from a variety of stainless steel motor manufacturers for a complete all stainless package.
Ball, acme and roller screw choices
Force/thrust capacities up to 35 kN (7,868 lbf)
IP69K rating and all stainless steel design is standard
15-day built-to-order shipping
Find out more about the ERD Hygienic (3A/USDA approved) Electric Actuators
---
Featured Product: RSA Electric Rod Actuators
High performance and high force
For dependability and mounting flexibility, Tolomatic's RSA electric rod actuator family provides a cost-effective solution for a multitude of motion control applications. Available in ST (standard) or HT (high force) models the RSA offers the widest selection of sizes and mounting options.
RSA-ST models provide forces to 17.9 kN (4038 lbf) in six different body sizes
RSA-HT models provide forces to 58 kN (13,039 lbf) in four different body sizes
Rigid, strong aluminum housing
Replace pneumatic or hydraulic cylinders
Find out more about RSA Electric Rod Actuators
---
Featured Product: Right-Angle Gearboxes, Caliper Brakes and Clutches
Over 60 years of proven performance
Tolomatic's line of power transmission products are hard-working, proven performers.
Find out more about Tolomatic Power Transmission products
---
Find our about all of the Tolomatic products, services and history.
See the complete line of Tolomatic electric linear motion, pneumatic linear actuators, power transmission products and learn more about Tolomatic's custom product capabilities.